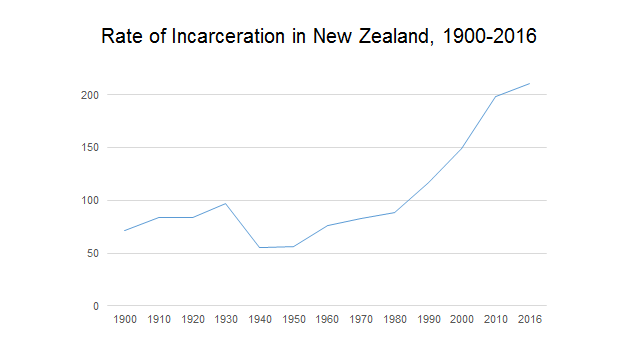 In 1950, there were 1,043 people in prison in New Zealand. In 1987, there were just over 3,000. In February 2018 only 30 years later, our prison population hit an all-time high of 10,695. 
Stuff reported the problem with this headline: "Prisons under 'immense pressure' with only enough space for 300 more inmates". A mega prison holding up to 3,000 inmates is planned at Waikeria at an estimated cost of $1 billion, with prison expansion expected to cost $2.5 billion over the next five years. That's on top of Corrections annual operating budget of $1.5 billion.  If the mega prison is built, one thing is certain – it will fill up. 
We don't need another prison. We need some 'quick fix' solutions to cut the muster.
We don't need another prison. We need to cut the muster by at least 30% and we need to do it in the next six years.  Here's why it needs to be done in six years – but the reason is obvious: the Labour party could be out of office by then.
There are three quick fix solutions to the problem: repeal the Bail Amendment Act, abolish very short sentences of six months or less and allow more prisoners to be automatically released after serving half their sentence. These strategies are described in detail here. These three simple strategies will reduce the prison muster to around 7,000.
If you want to help persuade the Government to cut the prison population, and you don't want New Zealand to waste $2.5 billion on more prisons, sign the letter of petition here. It will be sent automatically to the appropriate Government Ministers.