Profile of gang members in New Zealand
According to the Corrections Department, approximately 30% of  those who end up in prison in New Zealand are associated with gangs, and 70% of gang members are Maori. A survey of Mongrel Mob members in 1998 found…
95% were unemployed,
87% had been unemployed for six years or more
90% had no educational qualifications or vocational skills
82% of the men and 66% of the women left school at age 15 or under
In The History of Gangs in New Zealand, Dr Jarrod Gilbert (2013) argues that such individuals often come from dysfunctional families. They join gangs seeking feelings of connection and attachment which were largely unavailable in their own whanau as they grew up. Because of these and numerous other childhood deficits, once these youngsters left school, they were unable to compete for work in the job market. Gilbert writes:
"unskilled, uneducated and unwanted…, the black (criminal) economy was not just an attractive choice for many gang members and their families. To all intents and purposes it was the only choice." 
How it begins
The psychological impact of a dysfunctional childhood is not limited to young men who join gangs. Those who commit crime and end up in the justice system are often marginalised from mainstream society long before their offending began. Lord Bingham, former Chief Justice for Britain and Wales between 1996 and 2000 describes the personal profile of a typical offender like this: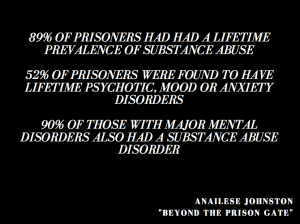 "He is usually male, often of low intelligence, and addicted to drugs or alcohol, frequently from an early age. His family history will often include parental conflict and separation; a lack of parental supervision; harsh or erratic discipline; and evidence of emotional, physical or sexual abuse.

At school he will have achieved no qualification of any kind, and will probably have been aggressive and troublesome, often leading to his exclusion or truancy. The background will be one of poverty, poor housing, instability, association with delinquent peers and unemployment".
This description applies equally well to most of those who end up in prison in New Zealand, with the additional observation that over 50% of our prisoners are Maori, many of whom join gangs where they feel welcome and accepted.
Most victims & offenders come from the same background
In the tough-on-crime narrative that has dominated the media in New Zealand for the last 30 years, much of the discussion has been about the rights of victims. Part of that narrative is that victims are innocent, law-abiding human beings, whereas offenders are nothing but 'scum' and somehow less than human.  However, the profile of the typical prisoner suggests that many, if not most offenders, were abused, neglected and victimised as children long before they ended up in prison. The problem is that as children, and as victims, their needs were not met either.
Research shows that youth who are victims of domestic violence are at risk for a variety of adversities including behavioural, emotional, physical, and cognitive functioning and long-term developmental problems. Indeed, the single greatest predictor of youth offending is prior victimisation. In other words, most people who become victims of crime actually come from the same dysfunctional backgrounds as the perpetrators. The notion that victims and offenders come from different backgrounds, and have nothing in common, is largely illusory.
The risk of victimisation
The commonality between victims and offenders is supported by statistics from Crime and Safety Surveys in New Zealand which are conducted every few years. These Surveys show that those who at the greatest risk of being a victim of crime are:
Young – between age 15 and 29
Maori
Unemployed or financially stressed
Renting or living in a socio-economically deprived area
Living in a single parent household
To be more specific, the 2013 survey found that:
3% of adults experienced five or more offences or 53% of all crime.
Maori are twice as likely to be the victims of violent crime as other New Zealanders
Māori are three times more likely than other New Zealanders to be chronic victims of crime (defined as five or more incidents in a 12 month period)
Maori women experience even higher rates of victimisation than Maori men
The point is, if we want to reduce the level of crime in society and the number of people in prison,  we need to take better care of at risk youth from dysfunctional family backgrounds. At the same time, we need to develop wrap-around strategies to improve the lives of these families so they are less likely to become dysfunctional in the first place.